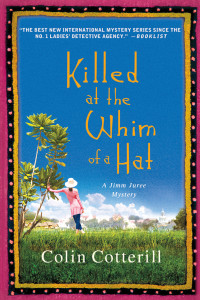 Jimm Juree is a thirty-five year old crime reporter in Chiang Mai, Thailand.  She's wrenched from her comfortable life by her mother to go and live in what she sees as a poky hell-hole of a fishing village in the south.  Her mother has had the bright idea that the two of them, along with her monosyllabic grandfather and her extremely shy body-building brother, will start a little hotel business in the hell-hole.
Jimm's mood improves when some long-buried bodies are dug up in the area (sitting in a VW combie, one of them wearing a hat) and she suspects foul play.  Not much later a monk is brutally murdered.  A monk-nun love tryst seems to be at the heart of the crime.  Jimm sharpens her investigative skills and starts to annoy the local cops.  There is one competent officer, stuck in the village because he's gay.  Jimm befriends him immediately.
Jimm Juree is one of the most cynical, smart-mouthed heroines I've come across in along time.  Her dark philosophical take on life is refreshing, her one-liners are a joy:
Either you sit and eat with us or I tell the police ministry you lip-sync Maria Carey on duty. [Jimm persuading her friendly policeman to co-operate]
They always did that, Thai police.  Cover all bases.  Shot four times in the face over a period of twenty minutes?  Don't rule out suicide.  They'd recently found a head in a bag suspended on a rope from a bridge in Bangkok and they hadn't dismissed the possibility of suicide.
While officially a crime novel, it's loosely plotted.  There are some very enjoyable side-alleys, often involving Jimm's older ex-brother, now sister, who is virtually living inside the internet (still in Chiang Mai) and able to hack into various databases when Jimm needs information.  Jimm's eccentric family is actually highly functional, just not in the ordinary way.
The seaside resort setting feels tranquil and attractive, even though Jimm keeps banging on about the drone of fishing boats and the pollution scum on the incoming tide.  The setting, the family, the oddball characters and the vibrant tone of its protagonist made the world of this book a lovely place to be.  Yes, even with the high per capita murder rate.
Colin Cotterill is a middle-aged Englishman writing from the perspective of a younger Thai woman.  But, for my money, it's okay.  Better than okay.  Cotterill lives in Chumphon, where the book is set.  His wife, a teacher, is Thai and the same age as his heroine.  The book feels right and Jimm Juree, well, she's a treat of a character.  Think Nancy Drew, but very very bitter.  And aging gracelessly.
I felt bereft when I left Jimm's company and went out and got the next book in this series, Grandpa There's a Head on the Beach.  It's more of the same.  Delicious.
Highlights:  Jimm Juree.  What a heroine.
Otherlights:  Not really for your crime fan who enjoys a tightly plotted, suspenseful mystery.  It's light and fun.